Advanced Identification and Labelling Project Solutions
Identification and labelling products are increasingly important as the preferred method of identification and traceability, for harness wire and cable, control panel and components.
Our product range covers a multitude of styles and materials including heat-shrinkable markers, tie-on, wrap-around and self-adhesive labels that meet international UL, CSA & Military specifications. Products can be marked using a range of state of the art thermal transfer printers.
Applications range from commercial component labelling through to high performance critical systems identification. Typical product performance characteristics include extreme temperature operation, zero halogen, low smoke, low toxicity, chemical & abrasion resistance, electrical insulation, strain relief and UV resistance.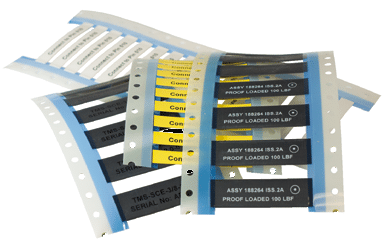 Mechanical Protection
Extreme Temperature
Performance
Chemical Resistance
Fluid & Solvent Resistance
Moisture protection
Strain Relief, Flexibility
Flame-Retardant, Low Smoke
High Shrink Ratio
Low shrink Temperature
Aesthetic Enhancement
Fast and Efficient Installation