Heat Shrinkable Boots Transitions and End Caps Glands and Feedthroughs
Based on heat-shrink technology, moulded parts and shapes are available in a vast range of configurations, sizes and materials, from miniature lightweight and space saving straight boots through to large multi-way harness transitions.
Moulded parts can be used to seal and protect harnessing breakouts and terminations from environmental hazards, as well as providing strain relief. Material selection enables full integration and compatibility with other harness
components, producing electrical systems that can be used under the most extreme environmental conditions.
Ideal for providing a high performance environmental seal and mechanical protection between the cable or wire and the connector or connector adaptor.
Offering up to 30% weight savings over similar standard materials. 
Ideal replacement for tapes, mould-in-place epoxies and grease. These moulded parts can be used for cable breakouts, transitions and terminations.
Provide optimum waterproofing and environmental protection for sealing cable
ends in underwater, underground, or outdoor applications.
Moulded heat shrinkable non screened bulkhead feedthroughs available in various configurations for environmentally sealed enclosures.
Also available are a range of screened and non-screened one piece heat shrinkable feedthroughs.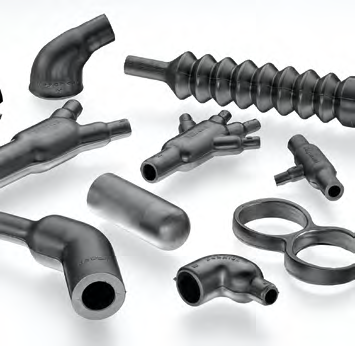 - Mechanical protection
- Chemical resistance
- Electrical insulation
- Electrical screening
- Fluid and solvent resistance
- Moisture protection
- Strain relief
- Flame-retardant, low smoke
- Extreme temperature performance
- Aesthetic enhancement
- Fast & efficient installation
- Wide range of materials
- Pre-installed adhesives
- Modification options