For all your wire and cable screen connection requirements, we have the solutions through our partners, offering an extensive range of circular connector backshells, available in various materials and plating specifications. Backshells, or connector adaptors if you prefer, offer high performance sealing and strain relief in demanding applications. We offer a wide range for applications in many industries including Aerospace, Defence, Marine, Space and Mass Transit.
These backshells are available in many configurations to match applications, are easy to install and offer high reliability.
- Easy to install
- High performance sealing & strain relief
- Available in configurations to match any application
- A wide choice of product materials and platings
- A comprehensive range of connector shell and cable entry sizes
- Suitable for screened & unscreened cables
- Available in assembled form (with pre-installed heatshrink boot)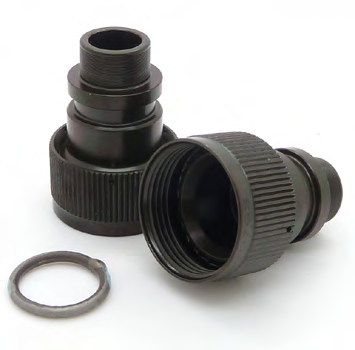 For your connector adaptors or backshell assemblies, please contact us with the following information where applicable.
- Backshell type.
- Connector part number or specification.
- Connector required or the manufacturer.
- Connector shell size.
- Connector material and plating (this may be in the part number).
-  Wire bundle diameter and cable jacket diameter.
- Entry size.
- Angle of backshell, or range required.
- Type of cable screen (e.g. size and number of strands, single or double layer).