We offer a comprehensive range of Heat Shrink Tubing materials
Heat-shrinkable tubing is available in an extensive range of sizes, colours and materials, including Polyolefins, Fluoropolymers, Elastomers and Silicone, many of which are radiation cross-linked to enhance their performance properties. Shrink ratios from 2:1 to 4:1 enable ease of installation, allowing the tubing to be utilised in all environments, from component protection through to ruggedised high performance electrical systems and field cable repairs. Temperature  capabilities range from -75ºC to +260ºC.
Performance characteristics include chemical and fluid resistance,  environmental and vibration protection, abrasion resistance and excellent  electrical performance. Heatshrinkable tubing is also a simple and effective way of improving a products aesthetic appearance.
Typical Features & Benefits
- Mechanical protection
- Chemical/fluid resistance
- Electrical insulation
- Moisture protection
- Strain relief, Flexibility
- Flame-retardant, Low smoke properties
- High shrink ratio
- Low shrink temperature
- Aesthetic enhancement
- Fast and efficient installation
- Pre-installed adhesives option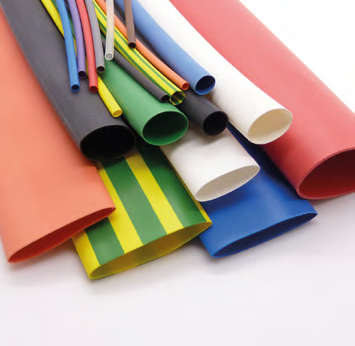 Many of our tubing products can be supplied
pre-cut to length.